2019 Colorado PGA Reach Invitational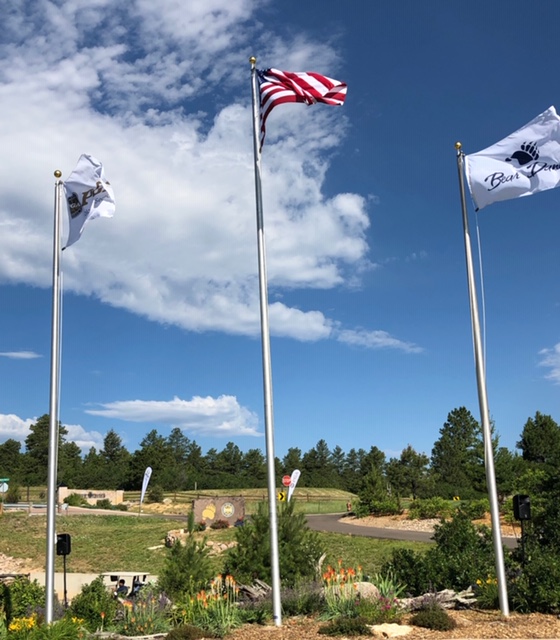 On Wednesday, July 17, 2019 the Golf Club at Bear Dance and the Colorado Section of the PGA hosted the 2019 Colorado PGA Reach Invitational. Check out the media announcement!
In this time of "less-than positive news cycles," who doesn't want to share an up-lifting human-interest story showing a deserving combat-wounded veteran receive the keys to his new mortgage-free home?
That's exactly what will be happening during the Colorado PGA REACH Invitation Pre-Event Ceremony on Wednesday, July 17, 2019. Bagpipers will lead U.S. Marine Corps Lance Corporal Steven Klimtzak onto the Golf Course where the flag will be raised, and the trumpeter will sound the National Anthem. He will be accompanied by his mother as the Colorado PGA REACH Foundation and Southwest Greens present him with the keys to his very own mortgage-free home.
Klimtzak, a true hero, has always admired and looked up to the men and women in the military and dreamed of earning his Eagle, Globe and Anchor. On July 17, 2019, he will also earn the respect and admiration of the golfers participating in the Colorado PGA REACH Invitational as they show their appreciation and gratitude to him for his service to our country.
Here is a snippet of what last year's home recipient had to say: "After you've been blown-up, you want to slow your life down and enjoy every last minute you have. I'm very grateful to have a chance to have financial stability and to be able to raise our family in a home of our own. To have peace, joy and stability – I'm just oh so grateful."
Organizations Involved
Colorado PGA – This is the sixth mortgage-free home that the Colorado PGA has donated to a deserving combat wounded veteran. The Colorado PGA REACH Foundation is a 501(c)(3) nonprofit corporation and is the philanthropic arm of the Colorado PGA Section, one of 41 geographical sections of the PGA of America. The Colorado PGA is home to 825 PGA Professionals and Associates dedicated to serving and growing the game of golf. Simply put, the mission of Colorado PGA REACH is to make a positive difference in the lives of others through the game of golf by pursuing activities in its three Pillars: Youth Development, Supporting our Military and Diversity and Inclusion.
Southwest Greens – Southwest Greens has partnered with the Colorado PGA to provide funding to award a mortgage-free home to a deserving combat wounded veteran. This is the second home that Southwest Greens, through profits from its Mile-High Golf Trail Program (www.milehighgolftrail.com), has provided the funding for. Southwest Greens owns and operates The Golf Club at Bear Dance, Larkspur; Plum Creek Golf Course, Castle Rock; Colorado National Golf Club, Erie; and Riverdale Golf Club, Brighton.
Military Warriors Support Foundation – is a 501(c)(3) non-profit charity with the mission to provide support and programs that facilitate a smooth and successful transition for our nation's combat wounded heroes. The programs focus on housing and homeownership, recreational activities, transportation assistance and leadership development. Through their programs, they award mortgage-free homes and payment-free vehicles to combat wounded heroes. In addition to the home or vehicle, the families receive family and financial mentoring.
Wells Fargo – Wells Fargo & Company (NYSE:WFC) is a nationwide, diversified, community-based financial services company with $1.6 trillion in assets. Founded in 1852 and headquartered in San Francisco, Wells Fargo provides banking, insurance, investments, mortgage and consumer and commercial finance through more than 8,700 locations, 12,500 ATMs, and the internet (wellsfargo.com), and has offices in 36 countries to support customers who conduct business in the global economy. Wells Fargo & Company was ranked No. 29 on Fortune's 2014 rankings of America's largest corporations.
Back to all